nightly rates
BED & BREAKFAST
July and August are booked up by weekly self-catering rentals, but the secret of Provence, as discovered by the Victorians, is the fantastic year round climate. A few days break in Spring truly rejuvenates the soul, a Winter sojourn will swap your grey skies for blue and the Autumn hues are probably the region's best kept secret with summer-warm days far from the madding crowds.
Whenever you choose Le Foulon to lift your spirits you'll find peace, tranquility, the finer things in life and good company, all just a short flight away.
PRICING IN EUROS, B&B FOR 2 PEOPLE PER NIGHT

weekend = Friday, Saturday and Sunday night
week = Monday, Tuesday, Wednesday and Thursday night
See the CALENDAR for availability
Winter- Low
week / weekend
Mid Season
week / weekend
Summer-High
week / weekend
Double room
(bathroom with bath and shower)


€85 / €94

€95 / €104

group

Garden room (with a terrace and a bathroom with bath and shower)

€85 / €94*

€95 / €104*

weekly

Deluxe room (bathroom with bath and shower)

€95 / €104*

€105 / €114*

reservations

Grand Suite
(bathroom with shower)

€105 / €114*

€115 / €124*

only

* Child supplement €10 each per night,
including breakfast. Wolf Suite, Cheiron Suite and Alexi Room have a double sofabed for kids.


2017
04 Jan - 24 March
30 Sept - 15 Dec


2017
25 Mar - 21 July
26 Aug- 29 Sept

2017
22 July - 25 Aug
16 Dec - 02 Jan '18

CLICK ON THE ROOM NAME FOR DETAILS
CHILD POLICY
We wish to ensure our guests enjoy the most relaxing, enjoyable break possible, and because of that we ask parents bringing children to Le Foulon to understand there may be other couples here looking for a romantic and quiet holiday.
OUR ROOMS - click here for details of each room
Our rooms are all about comfort. We started with a clean sheet, so to speak, and renovated them to the highest standards. So the bathrooms are all modern, the water pressure superb and the hot water is endless - simple stuff, but in our experience it cannot be taken for granted. The beds are excellent too - quality mattresses and egyptian cotton sheets, with one duck down and one synthetic pillow per person (and if you have an allergy or a preference for either then just let us know). Keeping you warm is a duvet appropriate to the time of year, and there's an additional throw in the bedroom cupboard.
The bedside lamps are touch sensitive, so there's no fumbling in the night looking for a light switch and the suites with a spiral staircase have a motion sensor to detect when you're close and softly light your way without waking your partner. The luxury rooms and suites also have a Tassimo tea and coffee machine, a mini-bar fridge and an iPod/iPhone player. We added sound-proofing between the rooms during the renovation.
BREAKFAST
Freshly baked bread and croissants are served with homemade jams, ham and goat's cheese (a local speciality). Or stick with a selection of cereals, yogurt and fruit. To drink we serve fine quality orange juice as well as Italian coffee and English tea.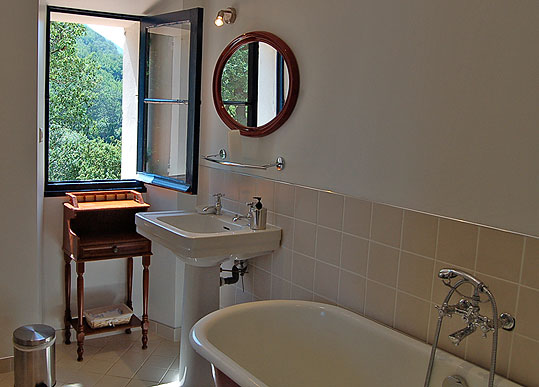 Classic style, modern comfort and a beautiful view - the Fablo Fernando bathroom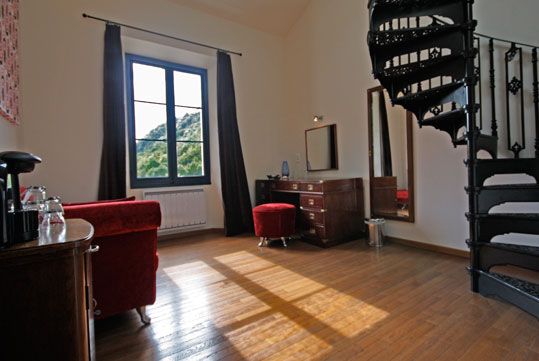 Downstairs in the Wolf Suite - the bed is upstairs on the mezzanine level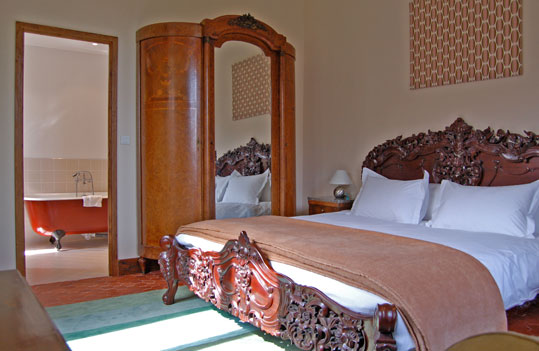 Like the adjacent Gertrude Hinternesch Room (as per the pic at the top of the page) and the Strauss Suite, the Fablo Fernando room has a beautiful carved mahogany bed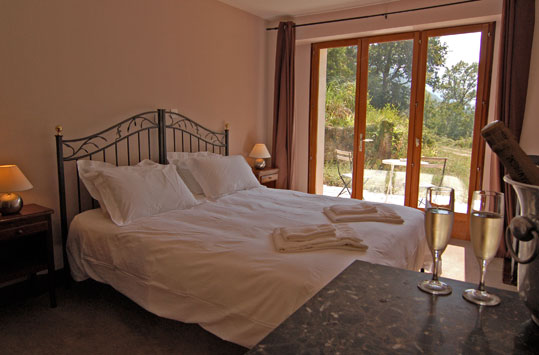 Like the Alexi Room next door the Almairac Garden room has direct access
to the garden and a patio with a table and chairs