gertrude hinternesch room
South facing, the large double windows reach down to the floor, providing maximum light and making the most of the panorama down the valley of the wolf. Gertrude has a magnificent Rococo style mahogany bed, as well as a matching desk and cabinet. There is a full length cupboard for hanging clothes, a mini-bar, and most of all, a great atmosphere - there is something just 'right' about this room.
The bright bathroom has a large shower adorned with green glass mosaics from Opio Color, and the original roll-top bath. An antique sink is backed by a slab of white marble which matches the marble window sill, cascading natural light over the bath. The original red tommette provencal floor tiles remain, as do the high ceilings and a sense of grandeur befitting a woman 'sans profession'..(see the rooms "history" at the bottom of the page).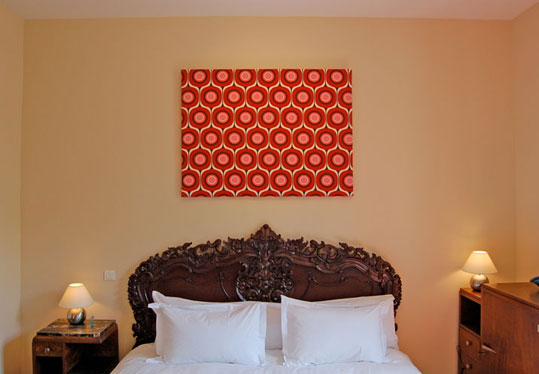 The colourful art work glows with the morning sun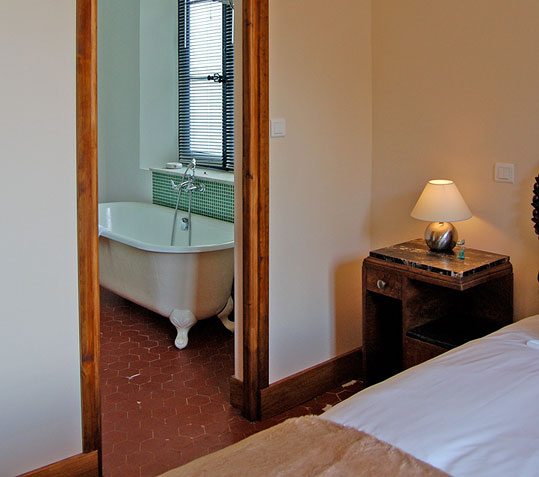 All our rooms have modern en suite bathrooms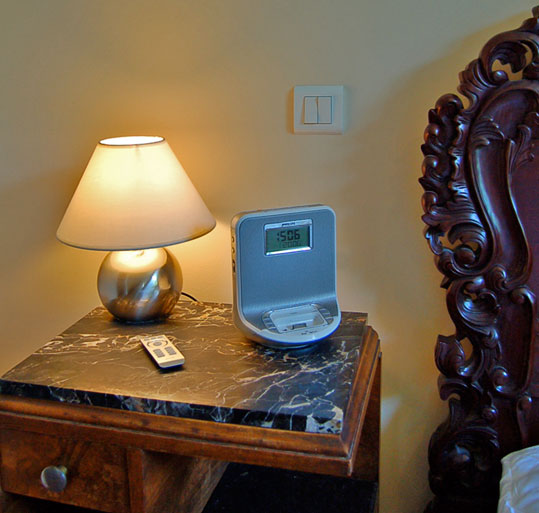 The bedside alarm clock is also an iPod and iPhone player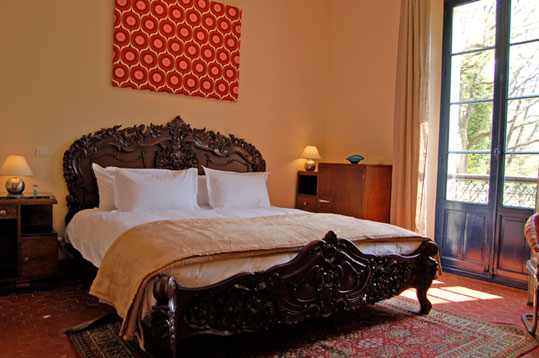 The super-king sized bed is carved from mahogany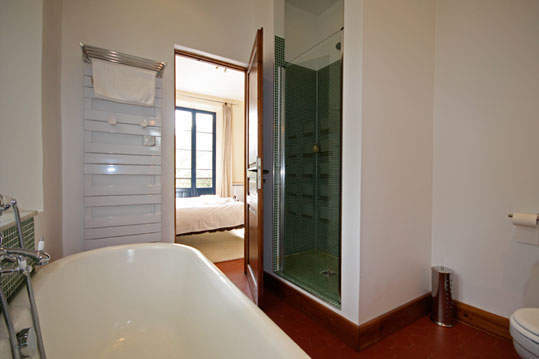 The spacious and well-lit bathroom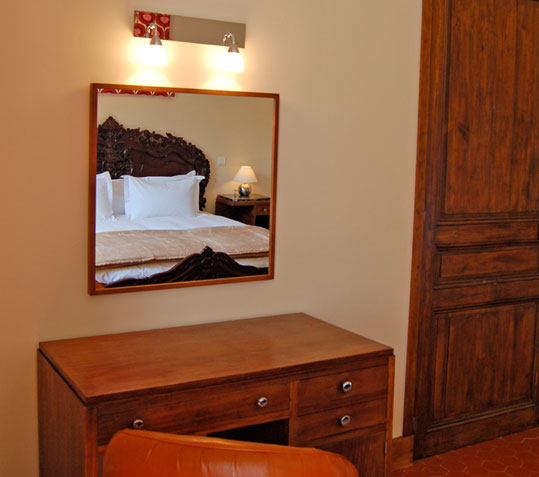 The dressing table - you'll find a hair-dryer in the top drawer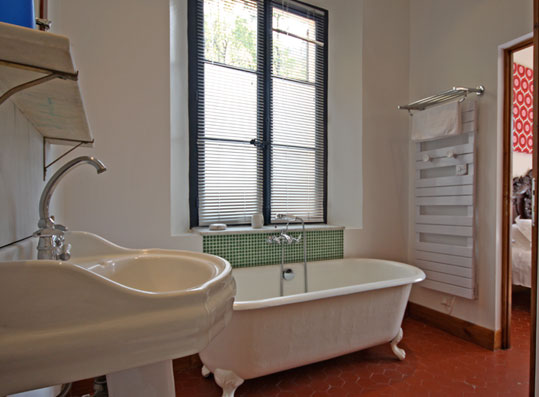 Modern plumbing, a heated towel rail and a classic roll-top bath (one of the Foulon's originals)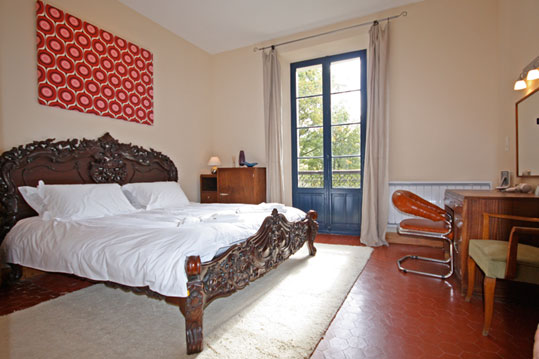 A generously sized room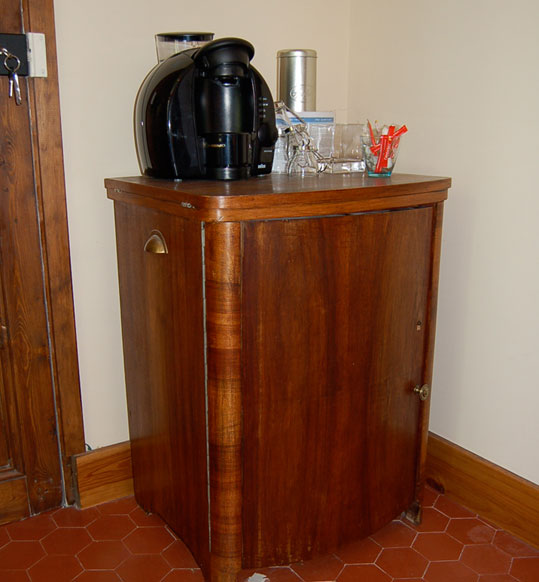 Our luxury rooms and suites have a tassimo hot drinks system (tea, coffEe and hot chocolate) and in the cabinet is a mini-bar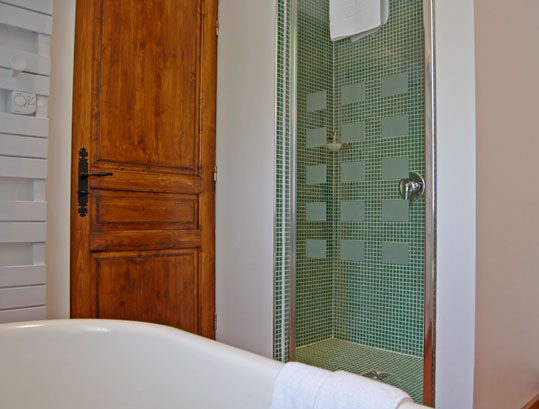 The large walk-in shower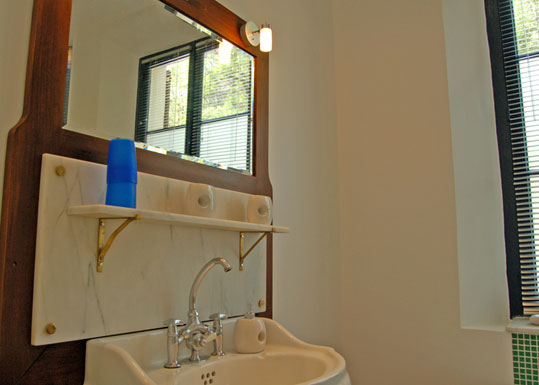 White marble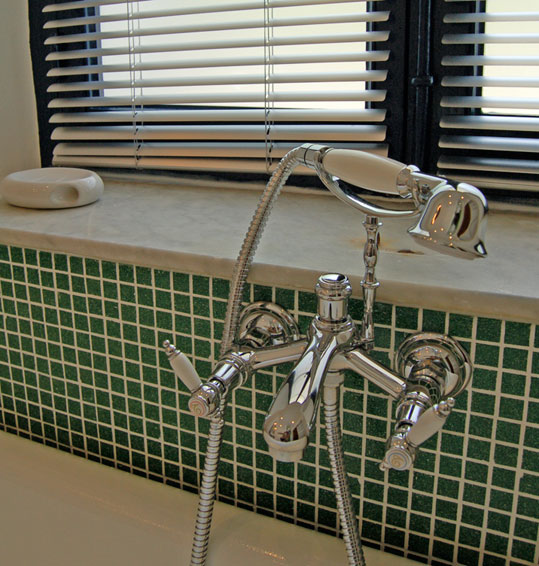 Quality fixtures and fittings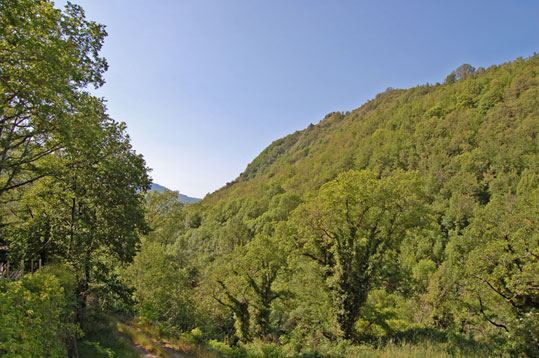 The view south down the valley of the wolf
History
She may be a bit of a mouthful, but Gertrude has an interesting place in Le Foulon's history. Little is known about her, except she was a woman 'sans profession' whose main residence was 435 East 57th Street, New York.
The few locals that remember the American in their community have only imparted that she was rarely here. Records show she owned the property for just a few years after the second world war - we would love to know more and a letter has been sent to her old address in the hope it may still be connected with the family.