how to find us
PRINTER FRIENDLY DIRECTIONS TO LE FOULON:
1/ from Nice Cote d'Azur Airport - only 35 mins. Use if arriving from Italy
2/ from Marseilles, A8 Eastbound
3/ from Toulon St Tropez Airport
4/ from RN85 Route Napoleon, Grenoble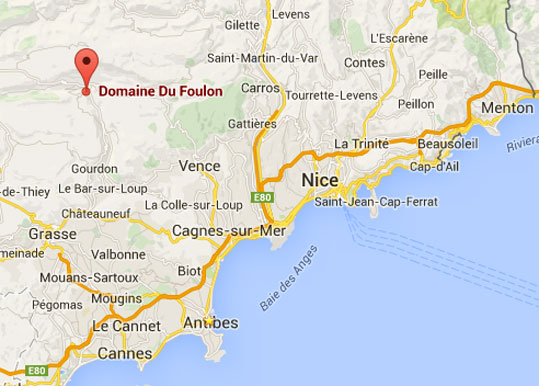 SAT NAV, GARMIN, TOM TOM ETC
Use the exact address - don't just input Gréolières:
Domaine du Foulon
4220 Route de Grasse
06620
Gréolières
Beware that not all Sat Nav are created equal and some direct you around the houses. Also, some might struggle with a signal in the mountains and tunnels. If in doubt please print off the fool-proof directions from the top of this page, you don't want to start your holiday with an argument!
CAR HIRE
All the major International car hire companies are represented at Nice Airport. In the height of summer they can be desperately slow and have all the gallic charm of a Parisian waiter. If possible send a member of your group ahead in order to get your place in the queue early. We have no affiliation with any company or broker although many of our clients have used France Car and found they had very good prices.
HELICOPTER TRANSFER FROM NICE OR MONACO
Just 5 minutes flying time from Nice airport and you're drink in hand enjoying your holiday. What could be better, and with summer prices from around €750 for 5 people one way, you don't have to be a Rock star to arrive like one.
Go to Heli Air Monaco for more details - just quote "Le Foulon, Route de Grasse, 06620, Greolieres" for a price.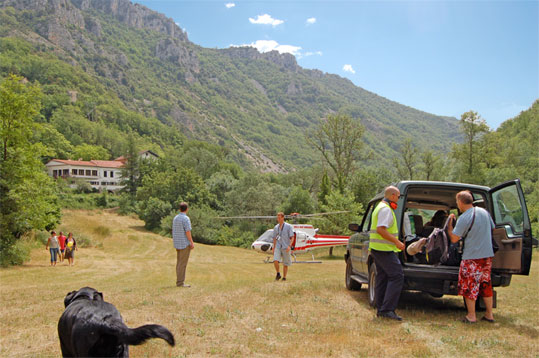 Arrive in style by helicopter
DRIVING FROM THE UK AND NORTHERN EUROPE
If you're driving from the UK or northern Europe then on average visitors have taken 11 hours from Calais. This is based on going straight down the A7 Autoroute from Lyon before heading East on the A8 all the way to the Cote d'Azur and only brief stops for fuel.
A much nicer way of doing the journey is to make it part of your holiday, stop half way after despatching flat less scenic northern France, driving via Grenoble and the A51/E712 to Sisteron before picking up the Route Napoleon. This road through the Alps is one of the most scenic anywhere in the World and highly recommended. See the printable link at the top of this page for directions.
We can also recommend some b&b's about half way down France - special places to stay with good restaurants and comfortable beds - just what you need in the middle of a long drive, and a far cry from a nasty chain hotel that you'll find next to the autoroute. Just contact us for a list of personal recommendations, it will make all the difference.