wolf suite
Le Foulon is situated about half way up the Vallée du Loup, or Valley of the Wolf. We're at a geographical junction, where the valley runs due North to meet the sheer face of Mount Cheiron and is forced West towards the source of the river.
The Wolf Suite is also on a corner, and has a double aspect with incredible views south to the Courmettes peak, and West through a metre wide round window on its mezzanine level. Through the round window the vista takes in all of our land, Greolieres Castle and le Gros Pounch; literally a big belly of a mountain that curves to a height of 1225m.
Like the Cheiron Suite the Wolf has its sleeping area on a mezzanine level reached via cast spiral stairs. Two Velux windows (incorporating remote control solar powered black out blinds) compliment the round window, and below in the dressing/lounging area an original double window provides even more light as well as an instant view as you step through the pine door.
On the lower level the chaisse longue in the current photos has been replaced with a very comfortable double sofa bed, perfect for children up to their late teens. When reserved on a bed and breakfast basis there is a supplement of 10€ per child, which includes breakfast.
In the bathroom a large shower with a curved glass door faces another great view, and with nothing but the occasional deer to glance in from the hill side opposite you can enjoy the panorama uninhibited.
With its new oak floor and smooth straight walls, the Wolf Suite probably has the most modern character of the three suites.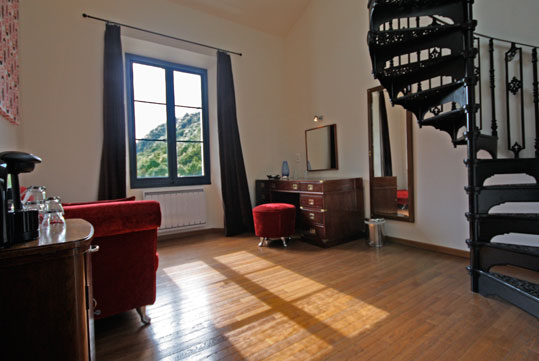 On the lower level of the suite you'll find an antique writing desk/dressing table and a chaisse longue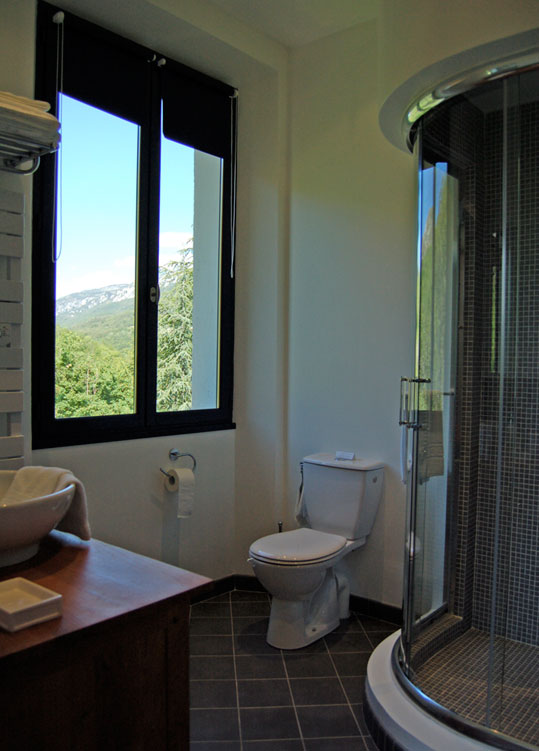 Bathroom with a view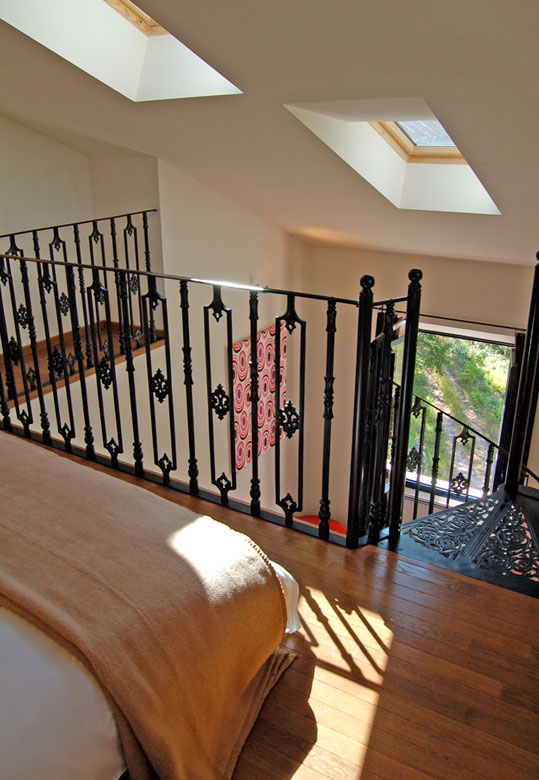 The bed is situated on a large mezzanine level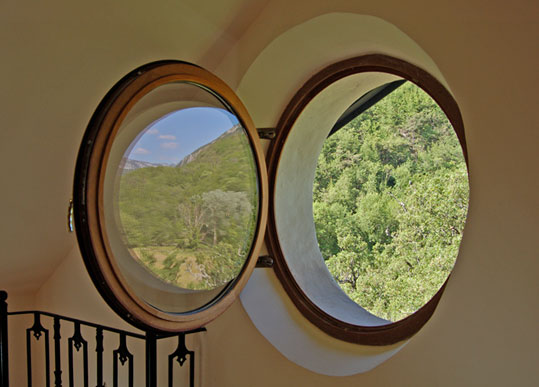 Upstairs has a round window with the best view in the house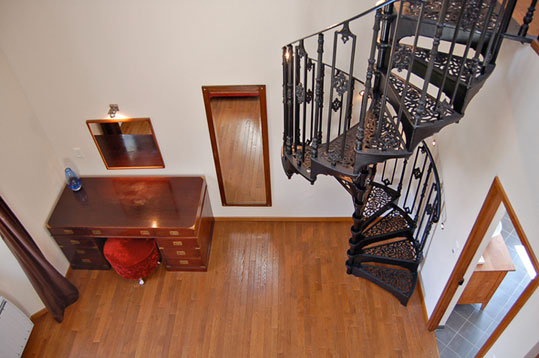 The spiral staircase is made from cast aluminium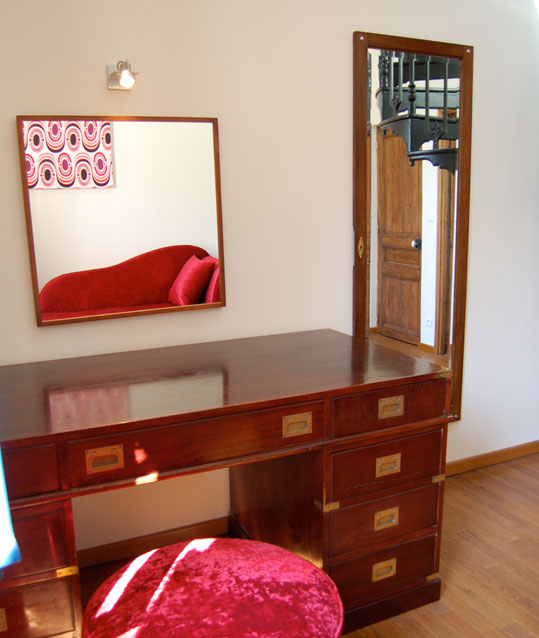 A hairdryer is kept in one of the top-drawers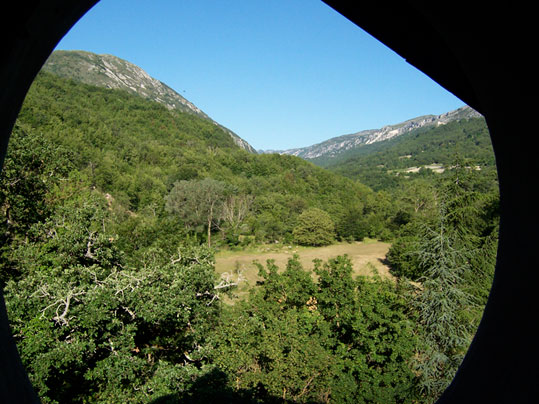 View across our garden from the round window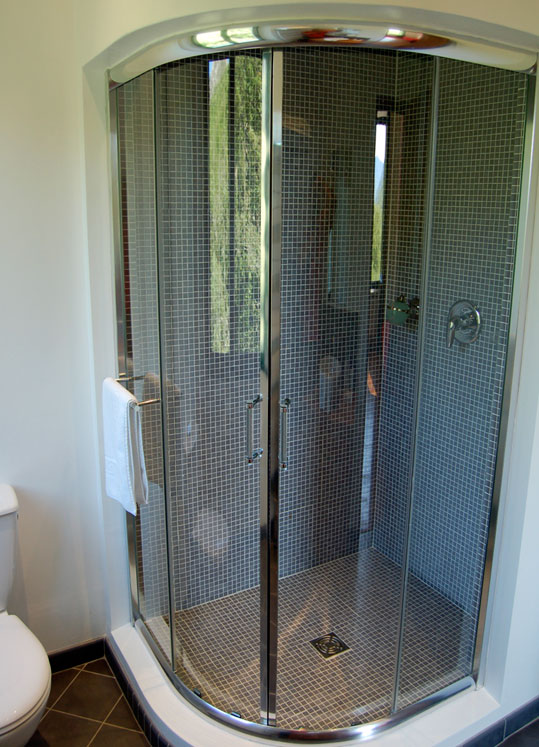 The large walk-in shower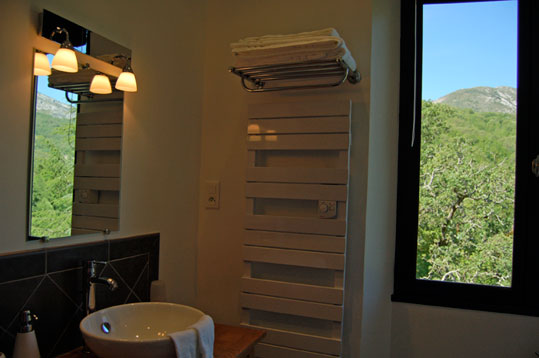 In the distance is the mountain called the 'gros paunches'
South facing